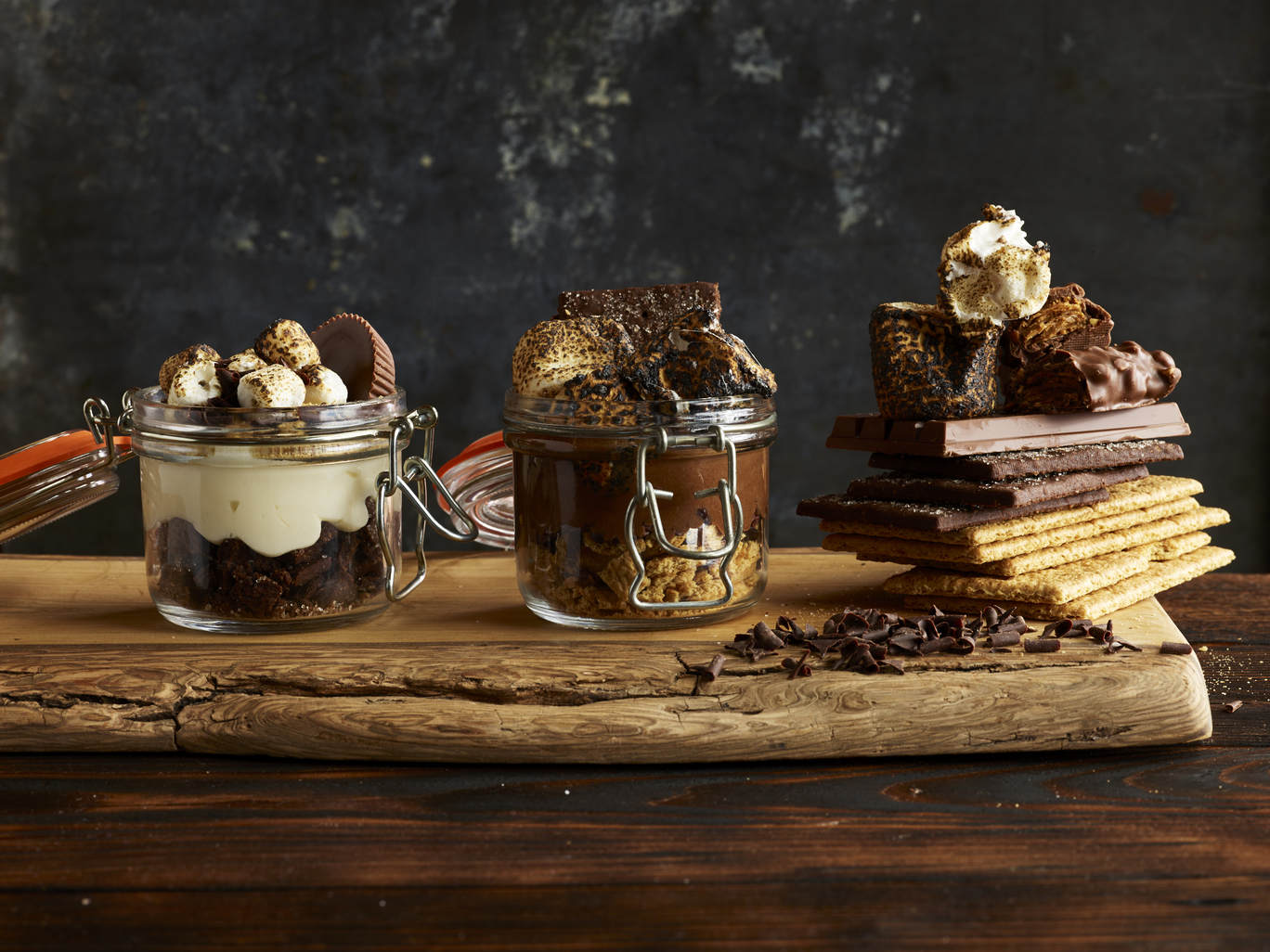 If you haven't heard, s'mores are a very big deal at Paws Up. In fact, renowned Pastry Chef Amanda Rockman from the South Congress Hotel in Austin, Texas, will be joining us as our resident S'moreologist for National S'mores Day (Friday, August 10) as part of her Campfire Chefs appearance (August 10–14, 2018). Executive Chef Sunny Jin is also a big s'mores fan. We sat down with Sunny to find out more about his love for s'mores. As a bonus, he also shared his fantastic recipe, S'mores in a Jar with Cardamom Graham Cracker, Ginger Marshmallow Buttercream and Bittersweet Chocolate Ganache.
 1. What's your favorite way to make s'mores?
I'm very much a traditionalist when it comes to s'mores. The slow rotisserie of the marshmallow off-center from a bed coals, the chocolate pre-melting on the graham cracker on a hot rock near the fire. It all matters. And, it all comes together for a moment that truly makes you forget everything else during that singular experience
2. What is your first s'mores memory?
The cultural shift from moving to the U.S. from South Korea at a young age opened me to so many firsts. So much was new to me, and my first s'mores was no exception. My new neighbor/friend invited me to a campout at their family farm. His dad oversaw the marshmallow roasting while his mom assembled the chocolate and graham crackers. I can still see my friend's dad hand me the s'mores. It seems obvious what you are about to get, but you're never prepared for that first bite as all your expectations are met and exceeded. Cheesy, but true.
3. Do you have any tips on making s'mores?
I can offer techniques till I'm blue in the face, but the only important rule is to have fun! S'mores are one of the most food-relatable definitions of friends and family. Enjoy your company and make your s'mores to your liking. Think of it this way—when was the last time you were in a bad mood making s'mores? Probably never.
4. Why are s'mores such an important dessert at Paws Up?
Paws Up is all about sharing moments with those who matter to us. I feel it genuinely on a peer-to-peer level with other team members and that respect for one another naturally filters to the guests we meet. Sharing s'mores is one of our favorite outlets for gathering our guests from around the globe to join us as we do it our own way in Montana.
5. Why do you think they taste better at Paws Up?
Our S'moreologists take their namesake seriously (well, as serious as you can get when you know you're about to end up with sticky fingers and a big smile). We firmly believe in teaching alternative techniques along with the traditional methods to allow our S'moreologists in Training (the guests) another outlook to pass to their friends. Even the most burnt (sometimes intentionally) s'mores ever made was probably still enjoyable, or at the very least allowed a family to laugh with one another and share their own critiques.
S'mores in a Jar with Cardamom Graham Cracker, Ginger Marshmallow Buttercream and Bittersweet Chocolate Ganache
Makes 12–14 (4-ounce) jars
Ingredients
For the Graham Cracker:
2 cups graham cracker crumbs
3 tablespoons granulated sugar
1 teaspoon ground cardamom
1/2 teaspoon ground cinnamon
Pinch of sea salt
1/2 cup melted butter
Directions
Preheat oven to 350°F.

Combine graham cracker crumbs, sugar, cardamom, cinnamon and salt in a medium-sized bowl. Add melted butter and stir until evenly combined.

Remove the mixture from the bowl onto parchment paper. Roll to 1/4-inch thickness.

Place on a baking sheet and bake 5 to 7 minutes or until dry and golden brown. Set aside to cool. Break into desired shapes and sizes, depending on jar sizes.

 
Ingredients
For the Buttercream:
10 large marshmallows
3 cups powdered sugar
1/2 cup softened butter
2 tablespoons skim milk
2 teaspoons vanilla paste (vanilla extract is a great substitution)
1/2 teaspoon freshly grated ginger
Directions
Melt the marshmallows in a large saucepan over low heat. Whisk in powdered sugar, butter, milk, vanilla and ginger until fully incorporated. Remove from heat; scoop the buttercream into a pastry bag. Set aside at room temperature.
Ingredients
For the Ganache:
1 cup heavy cream
8 ounces bittersweet chocolate, chopped
1 tablespoon unsalted butter, softened
Pinch of sea salt
Directions
In a medium-size saucepan bring the cream to a boil over medium heat. Remove from heat; add chocolate. Let mixture stand for 5 minutes to allow the chocolate to begin to melt. Whisk until emulsified; add butter and sea salt. Continue stirring until the ganache becomes smooth. Scrape the ganache into a bowl and set aside.
To Assemble:
Scoop 1/2 cup of the graham cracker into each 4-ounce mason jar. Top with 1/4 cup ganache. Follow it with a good piping of marshmallow buttercream. Garnish with your favorite sweets, crumbled candy bars or even fruit. Make it your very own and enjoy!