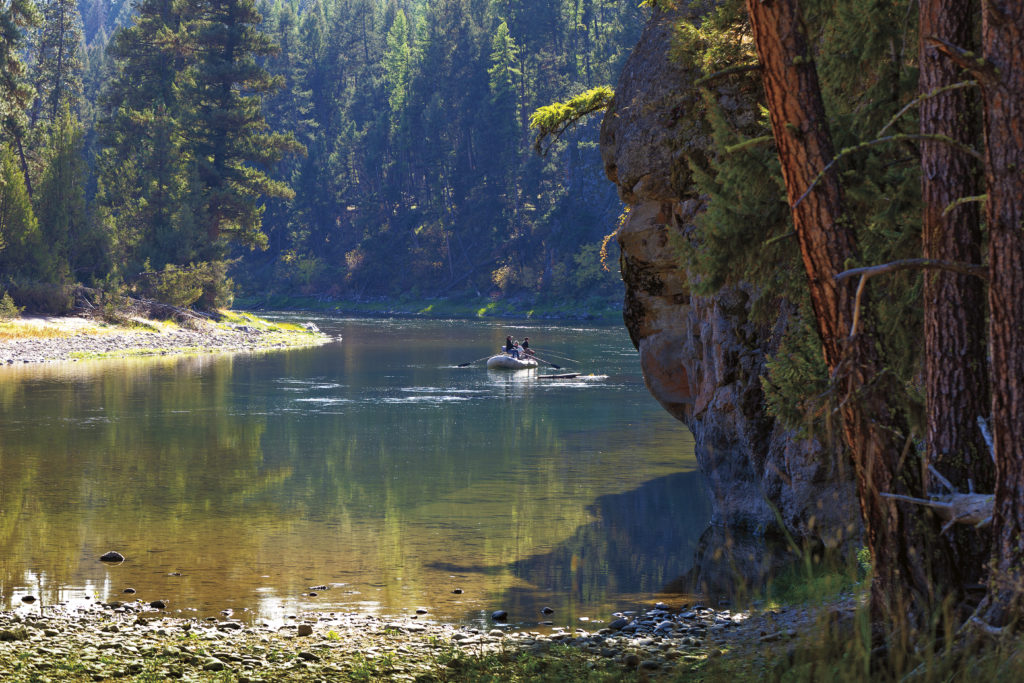 "There's certainly something in angling that tends to produce a serenity of mind."
Washington Irving may have penned those telling words back east in New York some 200 years ago, but they still very much apply today for anglers on the waters in and around The Resort at Paws Up.
In this fly-fishing mecca, you discover what moves you—what touches your soul—in a pristine natural environment. Is it the unending quest to cleverly imitate nature with man-made flies? The experience of spending time in nature, maybe glimpsing a black bear tearing into a rotting log for her own insect snack? Or maybe, just maybe, it's simply admiring the stunning beauty of the fish you catch.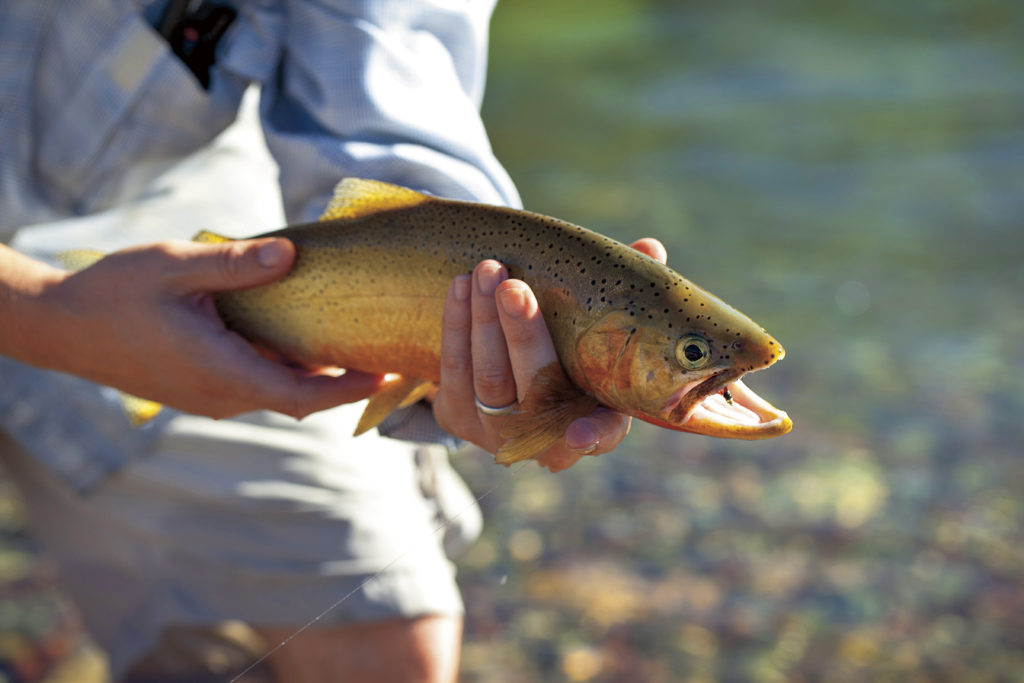 Take, for example, a fish like one of western Montana's lone native trout, the Westslope Cutthroat. With sporting markings on the throat and gill plate like a bright-orange-red bandana, these local residents are beloved for their good looks and feisty fights. And no visitor who's tussled with one and held it in wet hands before releasing it back into the water goes home with anything less than a story worth repeating many times.
Also lurking in the legendary Blackfoot River are an abundance of silver bullets called rainbows and cutbows, a cutthroat/rainbow hybrid. And, of course, there are their ill-tempered neighbors, the brown trout.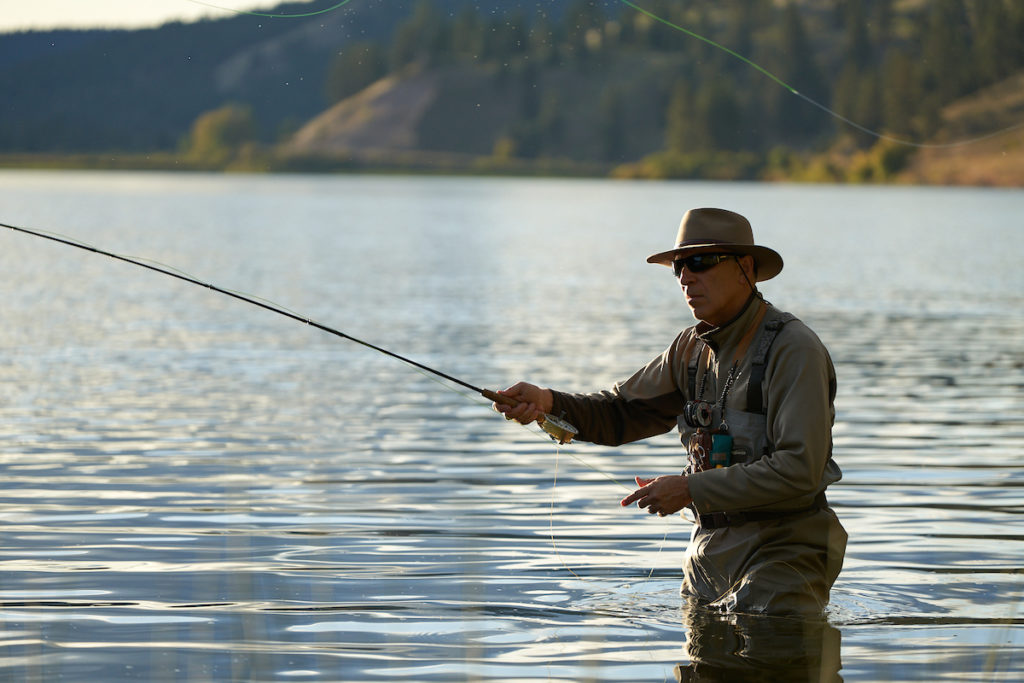 According to Assistant Activities Manager Ben Pepe, the leader of Paws Up's fishing program, "the Blackfoot, of all these rivers near Missoula, offers the most beautiful setting, with shimmering water running over dappled rocks, Ponderosa pine-lined banks, bald eagles and the occasional river otter—this is River Runs Through It country. It really is the quintessential Rocky Mountain river."
Guided half-day fly-fishing trips on the Paws Up stretch of the Blackfoot offer guests the advantage of being first on the water, thanks to two private access points. Upstream on the river lies the Box Canyon, another beautiful stretch suitable for full-day, eight-hour trips and trophy fish. Guides can also run longer trips to the brown-trout-laden Bitterroot River or the expansive Clark Fork near Missoula.
It's not just the fish around here that are big. "The salmon flies—you just don't see them in other local areas," Pepe said. "That hatch creates a feeding frenzy, typically in mid- to late June. We like to fish big attractor patterns, some of which mimic stone flies or hoppers."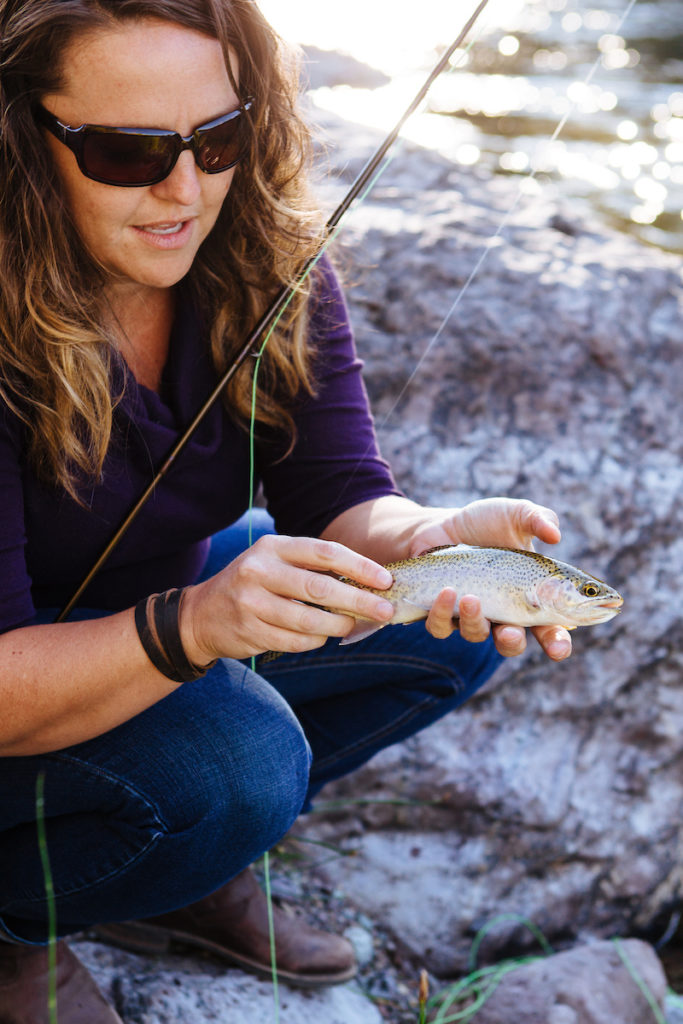 Patterns like the Chubby Chernobyl, a favorite of another Paws Up fly-fishing devotee, Executive Assistant Mindy Marcum, who spends much of her off-time on the water. "As it gets later in summer, we're trying to imitate a grasshopper that's fallen off a stalk of grass into the water," she said.
As summer cedes to early fall, Marcum will cohost a Paws Up event, the Wonder Women of Fly-Fishing, September 11–13, with renowned fly-fishing guide Kelly Harrison.
For Mindy Marcum, fly-fishing is all about releasing stress with every cast, as well as "the total relaxation and the togetherness with others." As she put it most succinctly, "Fly-fishing is my yoga on the water."