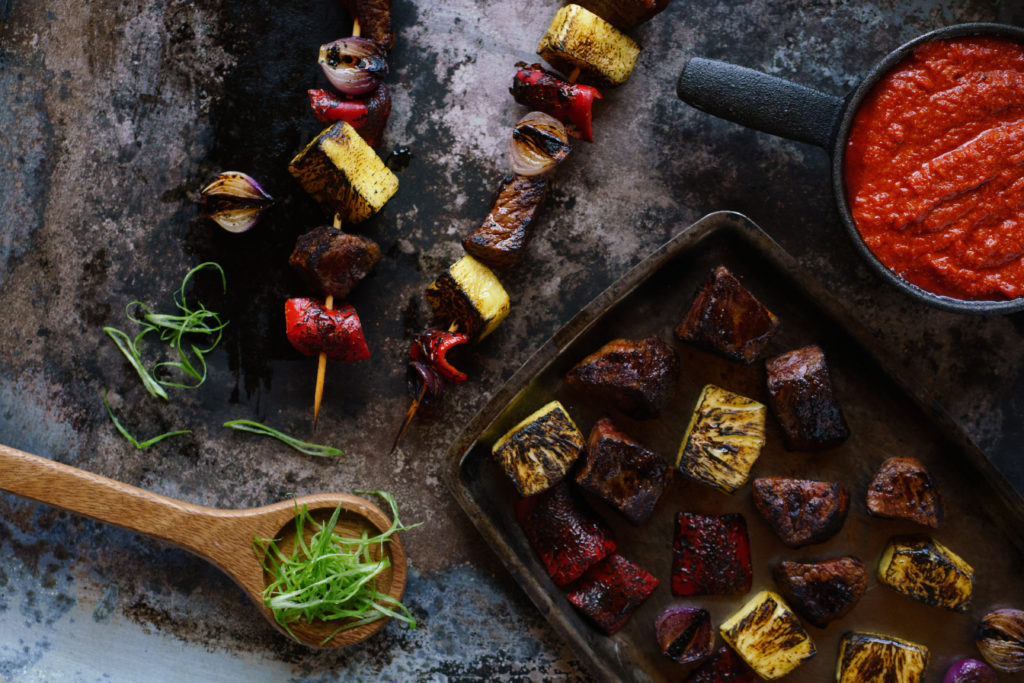 After searching the West for the highest quality beef and the most tender bison, The Resort at Paws Up settled on a very local source: our own backyard. As the ultimate expression of ranch-to-table cuisine, the Black Angus cattle raised here on the Paws Up Ranch are now part of our beef program, from the open fires of the chuck wagon to our restaurant Pomp's fine cuisine. Bison, from our herd, are also on the menu.
According to Co-Ranch Manager Leigh Kelley, "We raise peas, oats and barley on properly to fatten some of the beef that now grace the tables here at The Resort. Primarily, all of our beef is grass-fed—the high-quality grass they eat is managed for palatability and nutrition. I think animal feed is much like anything else: the quality you put in is a direct reflection of the quality you get out."
That principle comes through loud and clear in the form of well-marbled Angus beef products and lean, tasty bison cuts destined for dishes created by Paws Up Executive Chef Sunny Jin.
"The ranch-raised beef really is a source of pride for us. The grass-fed aspect produces flavors that are so pronounced. And we get such depth of flavors from aging the beef, for example, we get a whole porterhouse and dry-age it here for an additional 45 days, after an initial aging," Jin said. "That's when it gets that rich, buttery flavor with a great blue-cheese aroma."
This summer, expect our chefs to turn out a dizzying array of culinary masterpieces, a growing number of which are based on Paws Up Ranch-raised Angus beef and bison. We hope you enjoy this recipe for Memorial Day weekend or anytime this summer.
DRUNKEN BEEF and PINEAPPLE BROCHETTES with GUAJILLO ROMESCO
For the Brochettes
Ingredients:
2 pounds tender beef, such as tenderloin or ribeye, cut into 1-inch cubes
2 red onions, cut into 1-inch pieces
1 ripe pineapple, cut into 1-inch cubes
2 red bell peppers, cut into 1-inch pieces
3 ounces mescal
1 Tbsp brown sugar
Fresh juice of 2 ripe limes
8 skewers (if using wooden skewers be sure to soak in water for at least an hour prior to assembling)
Sea salt
Cracked pepper
DIRECTIONS:
Combine all prepared brochette ingredients into a nonreactive mixing bowl and toss to coat evenly. Marinate for at least 30 minutes and up to 2 hours. Preheat gas or charcoal grill and begin assembling brochettes by placing an even amount of each ingredient on the 8 prepared skewers. Place brochettes directly over the hottest spot of the grill and cook 1–2 minutes on each side. Finish with coarse sea salt and fresh cracked pepper and serve with Guajillo Romesco.
For the Guajillo Romesco
Ingredients:
4 whole dried guajillo peppers, rehydrated in hot water and deseeded
1/2 cup toasted almonds
whole garlic cloves
1/2 cup sun-dried tomatoes, rehydrated in hot water
2 tsp smoked paprika
2 tsp ground cumin
2 tsp ground coriander
1 red onion, sliced thin and grilled until softened and slightly charred
2 tsp kosher salt
1 cup Spanish olive oil
Sherry or red wine vinegar
DIRECTIONS:
Combine all ingredients except vinegar and oil into a blender or food processor. Blend ingredients and slowly drizzle in the olive oil until the sauce comes together and ingredients are finely ground. Season to your liking with vinegar.