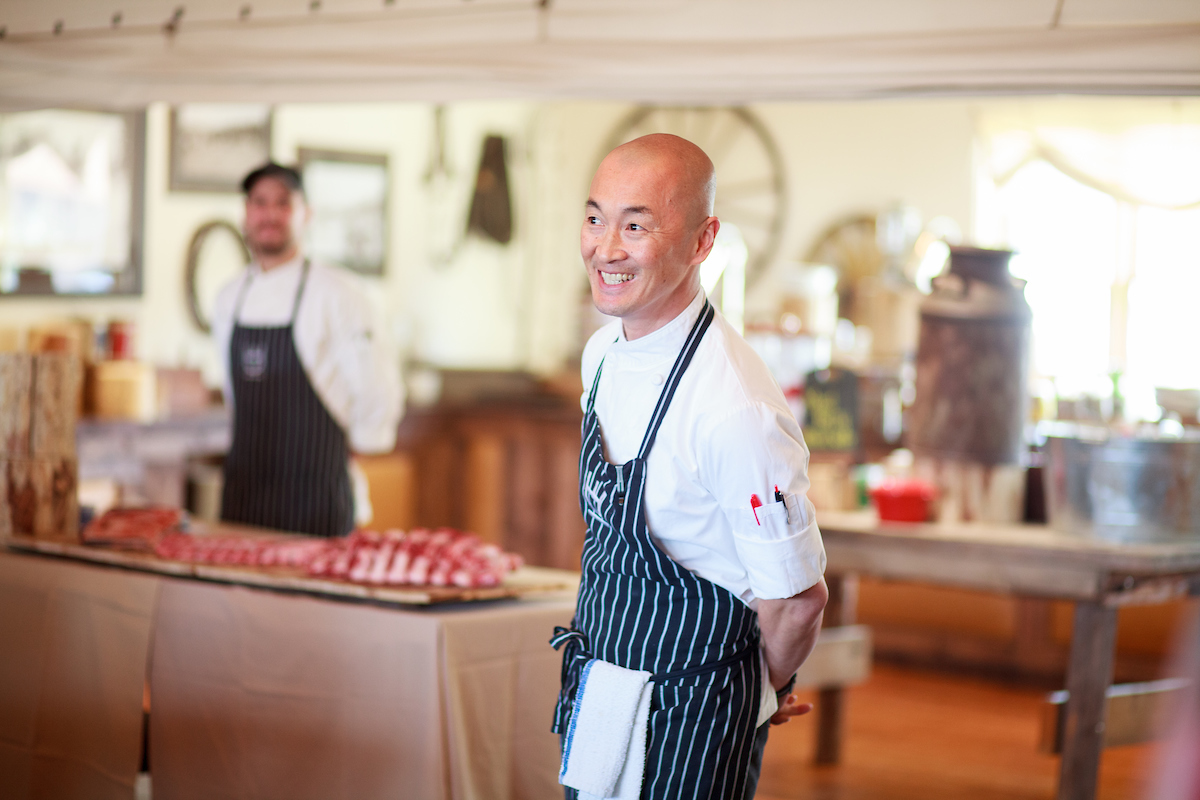 Chef Sunny Jin is a traveler by nature. He's a tireless forager, always searching for the next fresh local ingredient. And The Resort at Paws Up is thrilled to have him as our new executive chef.
"For me, happiness and inspiration come from my foraging walks and a dedication to sustainability," Jin said recently. "Hiking the local area is really the best way to get in tune with the Montana landscape and the endless bounties it provides. It's such an inspiring place. There's an endless supply of local and seasonal plants, vegetables, fruit and game. In that regard Montana really can't be beat."
Since arriving at Paws Up, Jin has also been taking road trips to visit local purveyors. "I've been reaching out to reestablish existing relationships and forge new ones. I'm looking for sustainable excellence in our ingredients," he said.
All of this translates incredibly well to his new role as culinary leader at Paws Up. Jin's dedication to excellence and his flexibility and creation of free-flowing menus learned on a global stage, along with his fondness for seafood and wild game, work well in the wilds of Montana. Lest there be any doubt about the current level of culinary excellence at Paws Up, Jin was added to the list of chefs at 2018's prestigious Pebble Beach Food & Wine, the premier epicurean lifestyle event on the West Coast. Among its former notable chefs: Philippe Legendre, Wolfgang Puck and Thomas Keller, one of Sunny Jin's early mentors at the French Laundry. We sat down with Chef Sunny to ask him a few questions: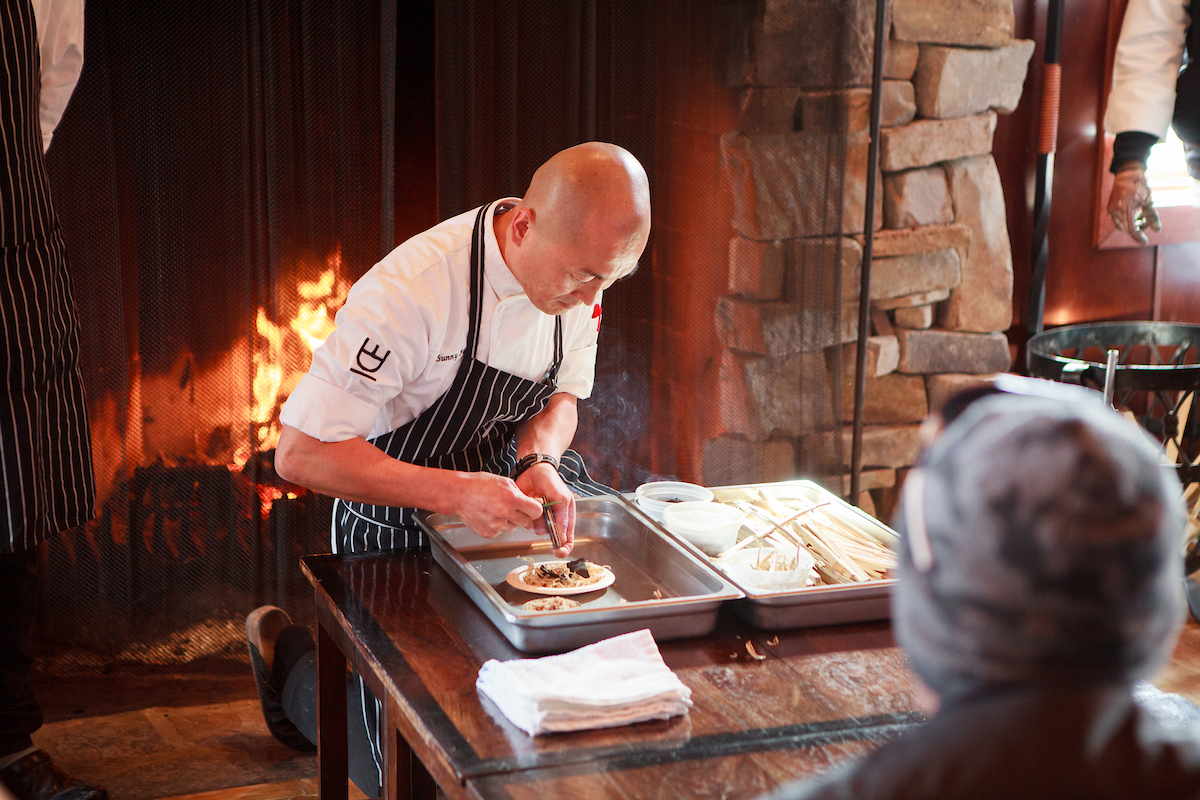 Is there a particular mindset you bring to your daily menus?
I want to serve something that I would like to eat and at the same time be proud of, and of course our kitchen's staff and our guests' opinions matter greatly.
Are there specific things you've found inspiring on your foraging walks? What piques your culinary fancy?
Lots of new exciting ideas occur to me every day in Montana. It's such an inspiring place, with culinary riches like wild huckleberries, cherries, morel mushrooms, sage, Saskatoon berries, spruce tips, purslane. And what we can do with elk, bison, duck and trout.
Is it challenging to cook for our diverse Paws Up audiences, small groups and large?
Forever the optimist, I don't see challenges but rather pleasant surprises. I enjoy teaching our culinary team at Paws Up, as well as learning from them.
What inspires the culinary staff to achieve greatness varies. It could be a tasting menu for a couple celebrating a special occasion or a group of 50 sampling various dishes at the Equestrian Center.
How does all of this—your rich experiences, the local sourcing—come together on a menu?
Our menus are free-flowing, and we've made progress in last few months from changing one thing at a time to changing three or four items while creating menu layers. We offer variety and tailor things to our guests and never sacrifice on quality or our standards. We'll keep a large focus on cooking with Montana elk and bison and the highest quality beef. We strive to source animals fed and raised in an antibiotic- and growth-hormone-free, responsible way. Some of our recent dishes have included:
Crispy Duck Hash with Mustard Greens
Cedar Plank Salmon on Wilted Kale
Sherry-Braised Beef Short Ribs
Have you had a chance to work with some of the guest chefs at The Resort's special culinary events?
Yes, I have. WinterFest was great. I love to see how other chefs work and engage with them. Collaboration is everything. Guest chefs help us keep it fresh and keep it engaged.
So, this area really seems to suit your "cook locally, cook sustainably" philosophy?
It does. I personally feel more driven by responsibility and less compelled by style. The reward for me is when I'm able to engage and connect with local farmers and ranchers. Their commitment to their craft and community is where I gain a sense of obligation. That obligation is then the intentional focal point in every meal.
Sounds like you are finding the kinds of local support you had hoped for?
Definitely, with Missoula and our neighboring rural communities, we are good neighbors. They may deliver food for sourcing our dishes, and if someone has a fence down, I'm more than willing to help fix it. Now that's a culinary philosophy that's as localized as it gets.